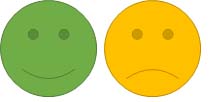 I've just finished reading Derek Sivers "Anything you want", and it reminded me of something really critical.  Everything we do, in any business, should be in service of our customers.  We forget that to our detriment.
Derek's book is a short, really easy and entertaining read.  It's a story of single-minded focus in many ways.  Developing CD Baby purely as a means of fulfilling the needs of his musician customers (first for friends); making decisions that only served their needs, and refusing to engage in deals which would profit him, but hurt their interests.  He really didn't want his company to grow – he just wanted to make music, and help his friends sell theirs.  As a result of that focus he ended up selling his company for $22m (there's a good bit more to the story in the book, which I encourage you to read).
Sometimes, particularly in larger organisations, it can be easy to forget that at the end of every "activity path" there is a customer.  The work the finance teams do to manage spending is in service of the customer, in the same way as the efforts of people delivering product or answering the phones.  HR are not just there to resolve internal issues, they are there to ensure that the organisation's hiring policies and approaches result in the best people being hired and retained – again, ultimately to provide a better customer experience.
The further we are from the end-customer, the easier it is to get lost in the machinery of a large organisation.  We talk about delivering value, but we sometimes forget that the value we're delivering should be in the customer's interest, not necessarily our department, division or organisation's.
Almost all organisations claim to be customer-centric, but some demonstrably "walk the walk".  I recently wrote about my experience with Microsoft and their (now sadly defunct) Band 2 fitness tracker.  This was probably the best example of looking after a customer that I've personally experienced.
I also clearly remember the worst, which was in a very well-known restaurant in Dublin (an "Institution") where I had taken my then girlfriend (now wife), out for a special dinner.
Not to bore you with too much detail, but even 22+ years later it still sticks with both of us as how not to treat a customer.  We had been looking forward to this meal for some time – it was to a be an expensive, rare treat at a time in our lives when we didn't have a lot of money.
We were seated late, despite having arrived on time.  Having waited for our table and gotten settled in, we were then asked to move to a less desirable table to accommodate another, older couple who arrived after us.  There was no explanation or nod given to inconvenience caused.
Pace of service was poor, our food was mediocre, and when I raised a concern about my girlfriend's main course the response was indifferent.
I can't stress how disappointing this was, because on a couple of previous special occasions in my life (graduating from college, for example) the meal in this restaurant had been the high point of the day.
I ordinarily never wrote letters of complaint, but I was so upset about the whole thing that I wrote a letter to the management telling them about the experience (clearly well before the days of Tripadvisor reviews, Yelp, Twitter, etc.).  I never heard back.  Consequently, I've never been back to this restaurant, and for years afterwards would dissuade colleagues and friends (particularly in my age group) from going there.  From a customer service perspective, this issue was mishandled at all levels in the organisation (front of house, wait staff and management).
Really good customer service (again, at all levels in the organisation), can turn customers into raving fans.  If you're setting up a new business, per Kevin Kelly's article, 1,000 true fans can be enough to sustain and grow your business.  For established businesses it is vitally important in this era of constant, highly visible sharing for customer service to be a key focus of any organisation.  Poor customer interactions at any level can become public domain very quickly, and lead to mass negative response (and create "anti-fans").  Who can forget the United Airlines saga from last year, an event that makes a bad meal look like a dream date.
Some companies put the customer at the forefront of everything they do. Currently, the two largest companies by market cap are Apple and Amazon, with valuations in excess of $1Tn.  Both have a culture and history of customer focus (or obsession, depending on who you ask). I don't believe that it's an accident that both companies continue to have stellar growth – customers appreciate being appreciated, become fans, and convert their friends, colleagues and families.
Which all brings me back to the pseudo-Jeopardy question structure of the title of this article (and there is real jeopardy in forgetting or neglecting the answer) – "What is the primary focal point of a successful business?".  Failing to get that right can have lasting implications for the companies we are part of.