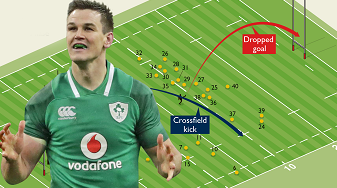 (First Published during the 2018 Six Nations, image (c) times.co.uk)
Along with a large number of my fellow Irish, and no doubt, a good portion of the French rugby-watching population, I dug my nails into the sofa on Saturday, as Ireland and France had their first Six Nations Rugby clash for 2018.  While not on the scale of a SuperBowl, as the first Ireland game in the tournament it would be a key indicator of how things might play out for Ireland. As an away game in Paris, against a relatively untested French side, it was always going to be interesting to watch.
Ireland led for much of the game until a fantastic try from one of the French wingers and the subsequent conversion (which added 7 points to the French total), put France ahead by one point. With minutes left to play that is where it looked like we were going to end up – with a disappointing Irish result against a stalwart French defensive line that just refused to crumble.
And then something amazing happened.
From deep within their own half, the Irish team, which had conceded the ball far too easily at times, and which had a number of basic handling errors to look back on, went through 41 phases of play without conceding a penalty, missing a pass, or losing possession.  With two minutes of overtime on the clock the ball was presented to Johnny Sexton, who kicked a 40-metre drop goal with a wet, heavy ball to give Ireland a two point lead and end the game.
A number of things struck me about this achievement.  When all appeared lost, the Irish players showed grit, persistence, and professionalism to deliver the ball to their kicker.  And then Sexton backed himself 100% and put the ball between the posts. Despite missing a relatively easy kick ten minutes earlier, he put a huge bet on himself, and on the team to put him in place with the ball, and delivered the desired result.
The level of trust displayed by a tired team (who had been battering against the French defense for 80 minutes) in themselves and their kicker was incredible.  And the self-belief that Sexton demonstrated as a result of that trust was amazing to see.
The questions I have for all of us are 1) do we display that level of team trust and collaboration, even when we're tired, under pressure, and facing a potential loss? and 2) do we show appropriate confidence in our decision-making when the trust is placed with us to get the right results?
Team sports aren't a perfect analogy for the business world (after all, we ideally want to deal in win-win), but we are all part of a team, and I believe there are lessons to be learned from the above display for my teams and I.